Pre-Purchase Car Inspections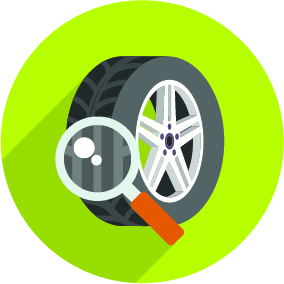 If you are in the market for purchasing a used vehicle, it is not enough to think it just looks and sounds good, there are many underlying problems that could be ready to show themselves once you have purchased the vehicle of your dreams, and then there is the simple fact, the asking price may be too much for what the vehicle is actually worth.
For a relatively small cost compared to the purchase price of a vehicle and to save you a few thousand in simple repairs, it is worth asking the advice of one of our mobile mechanics to give it the once over before you actually decide to make the purchase.
Unfortunately, there are many people who still pay thousands without seeking the advice of a professional, and this normally falls down to three simple reasons:
A lot of consumers don't know that pre-purchase car inspections are easy and convenient to arrange.
A lot of people looking for used cars are either unwilling or have no extra budget to pay for an additional inspection.
Many people anticipate aggravation in the buying process and getting the third party to agree or release the car if they ask for an inspection.
With just a little fore-thought a pre-purchase car inspection can be both quick and revealing, if the mobile mechanic's report is free from any major concerns, you can quite confidently purchase with no further questions, or if some problems are found, you can use this to bargain for a cheaper price, or just walk away from a possible mistake.
Request Denied
Most sellers are quite happy to allow you to have an inspection, either by a mobile mechanic or if there is a garage close by where you can take the car. If for any reason, they deny the request, it makes you wonder what they are hiding.
Highly Recommended Pre-Purchase Inspection
Many experts agree, it is a MUST, that all used vehicles are inspected before purchase. Even if a car buyer is quite knowledgeable about vehicles, it is not enough to really do a pre-purchase inspection justice in what it can save you.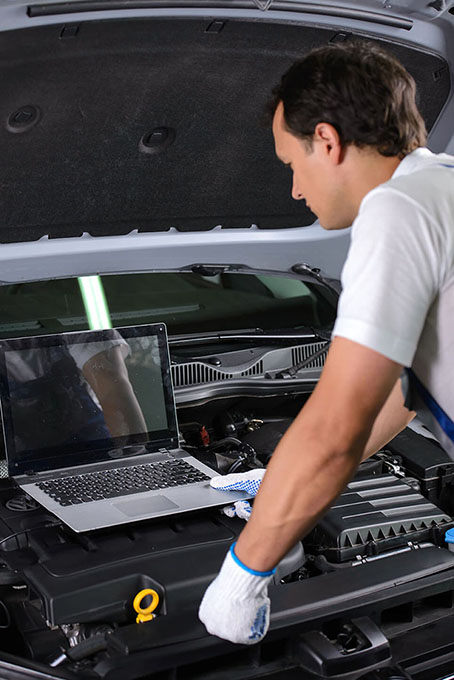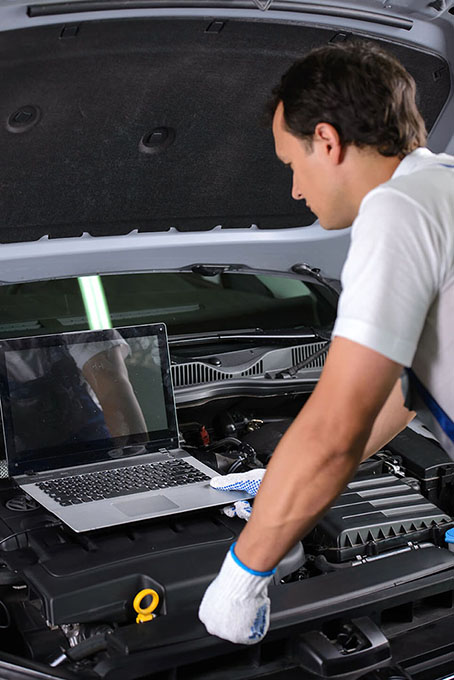 Test Drive
It is highly recommended to take the vehicle for a test drive, this should include a route that consists of hilly roads, bumpy areas and any undulations in the road surface, these can highlight any possible vibrations and the hills can show any performance issues which may be lurking.
Major Problems
An inspection will highlight any major problem, including but not limited to the following:
Frame or Chassis damage: if the vehicle has been involved in a serious accident, this will be highlighted and can save major problems if it has not been repaired correctly
Previous repair work: the vehicle may have had repair work done previously, if this has not been done properly it can affect the asking price of the vehicle
Smoker: if you have no chance of physically seeing the car and you are purchasing online, the fact that the car interior has smoking smells or stains can be disguised, these are difficult to get rid of and it is good to know of these in advance
Flood-Damage: In some cases, a car has been flood damaged and the vehicles history has not been updated to reflect this, an inspector will quite easily be able to notice signs of water damage.
What Is Covered
By using a reputable and friendly mechanic to check over a used vehicle, you will have a clear indication of what you are purchasing without you setting any expectations which may not happen. By having a qualified mechanic performing and inspection, this can serve several functions.
It will Verify the equipment listed, is what is being sold with the car
It will be Confirmed the vehicle is in the condition of which it has been described.
It will be revealed if there are any problems with the frame, engine or body that have not been disclosed.
Checks engine and body codes that will show if there has been any tampering.
It will build your buying confidence as you will know you are not wasting hard earned money.
Final Thoughts
It is nearly impossible to find every fault on a used car, but there are certain things a trained professional will notice.
Bodywork – the vehicle may have had bodywork fixed, this can be highlighted if the paint is not an exact match or the surface of the body is no longer metal (a simple magnet test can show where there is filler used)
Gaps around the hood, trunk or doors may not be equal, this can mean an accident has taken place.
Tire wear can indicate steering problems as can loose play in the steering wheel.
An over clean engine compartment or underside can mean there are leaks which have been cleaned away so as not to be obvious.
Exterior lighting fixtures appear to be different glass can highlight the possibility of a previous accident.
Our mobile mechanics can provide a detailed report once the inspection has been completed, and this will give you all the information you need to make an educated decision on to buy the car or not.
Give Us A Call
We have been keeping cars save throughout the entire Charlotte valley.  Let our team of mobile mechanics keep your car running safety, so give us a call today.